Too Young for Cosmetic Surgery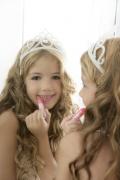 You don't have to search hard to find a person who thinks cosmetic surgery has its implications. However, the truth is that many misconceptions are associated with the idea of undergoing a cosmetic surgery procedure, and those who have already tried it, are now also choosing it for their children.
As reported by the British Newspaper, the Daily Mail, a 51-year old mother opted for an unconventional Christmas gift for her 7-year old daughter – a £7,000 liposuction voucher. It's not the first time the daughter, Poppy Burge, received a gift like this, as her mother, Sarah Burge, selected a voucher of £6,000 for boob job as her daughter's last birthday gift. The mother, who has already spent over £500,000 on her own surgical enhancements, is now known as "Human Barbie" for her love for cosmetic surgery. She said that she views these vouchers as an investment made for her daughter's better future. She also says, Poppy is like other normal kids, but girls are no longer interested in Cinderella and Snow White. Instead, they want to be famous like Lady Gaga and Cheryl Cole, and these vouchers will help Poppy make her dream come true.
Cosmetic surgery in Prague
At Beauty in Prague, we only perform surgery on adults over the age of eighteen after they have undergone a full, professional consultation where the implications of the procedure is presented and discussed. Call today for your free consultation.
For your free email consultation simply fill in Medical Questionnaire and send us some photos of the areas to be treated.
Cosmetic surgery, liposuction, how much is liposuction, tummy tuck cost