When Designer Shoes Lead to Cosmetic Surgery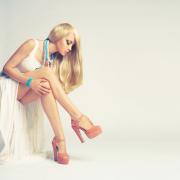 Women have always loved shoes, and the modern girl is no exception. She has even more reason than ever to love footwear, due to the amount of promotion that she sees on TV and in the media. In particular, there is a trend for designer heels such as those created by Manolo Blahnik, even when those shoes don't come in a woman's size.
A radical surgery offered by companies such as the Aesthetic Foot Surgery in Beverly Hills will offer to change the shape of a woman's foot so that she can wear heels designed to make a woman's foot narrower.
Cosmetic surgery in Prague
Women have been choosing to have cosmetic surgery like this in order to improve their appearance, but if you want more traditional plastic surgery, then speak to our experienced cosmetic surgeons. By contacting Beauty in Prague today, you can get the help you need to improve your looks.
For your free email consultation simply fill in Medical Questionnaire and send us some photos of the areas to be treated.