Social Networking Sites and Cosmetic Surgery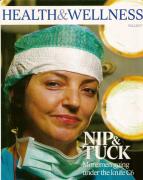 You'll find people have different reasons for wanting cosmetic surgery. Some of them opt for a procedure to boost their confidence, while others choose to go under the knife to look attractive to the opposite sex. However, there is another factor affecting the popularity of cosmetic surgery – it's the 'video chat' factor. Yes, many people are now going for plastic surgery because they think they don't look good on video chats like Apple's FaceTime and Skype.
As reported in the British Newspaper, the Daily Mail, surgeons are now seeing more and more people coming to their clinics asking for cosmetic procedure because they don't look good in photos on the social-networking sites. These people opt for nose jobs, facelifts, and chin augmentation surgery to have better close-up pictures. Robert K Sigal, a surgeon from California, said that people come to him and say that they don't like their appearance on video chatting where they always seem full and heavy, especially under the neck. The surgeon said that since these people talk on phone with their neck down, it shows their unsightly flabby bits around their neck and face.
Cosmetic surgery in Prague
If you're having the same problem, we have the solution for you. At Beauty in Prague, we have specialist cosmetic surgeons lined up for clients like you. Whether you want a complete facelift or you're interested in touching up specific facial features like nose, eyebrows etc, we can do it for you, and do it at a rather affordable price with 60% discount for European clients. So, call us now for free email consultation.
For your free email consultation simply fill in Medical Questionnaire and send us some photos of the areas to be treated.
Cosmetic surgery, facelift surgery cost, nose job cost, tummy tuck cost, breast augmentation prices