Cosmetic surgery for couples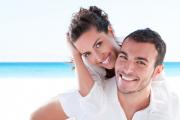 More couples are having surgery together in their efforts to match each other in the beauty stakes, research suggests.
Many are spurred on in the hope they can attain certain lifestyles and will be happier the better they look.
Research found that nearly a quarter (24 per cent) of cosmetic surgery patients admitted their partners had also undergone some sort of treatment.
Research also shows a surge in demand for a range of cosmetic techniques in the last six months, with Breast Enlargements up a third and Breast Reductions up by 18 per cent.
The most popular procedure for men and women was Liposuction, which went up by 25 per cent in six months, while Nose Surgery increased by 20 per cent.
During the same period demand for Facelifts also increased by 11 per cent.
The top "his and hers" combination saw women plumping up – with Breast Enlargement – and men de-plumping with Liposuction.
A poll of 100 female patients also revealed that 13 per cent had been given their surgery as a gift from their partner.
It is also becoming more popular for Beauty in Prague to see couples coming through our doors because the recovery period can be quite lonely and so, if you have your partner with you, it can be very reassuring, to have someone you know near you.
For more information, please call 0800 023 2592 or apply for our free email consultation by filling in the Medical Questionnaire and sending us the photos: http://www.be­autyinprague.com/…es­tionnaire/