Prague only 1hr 30min from London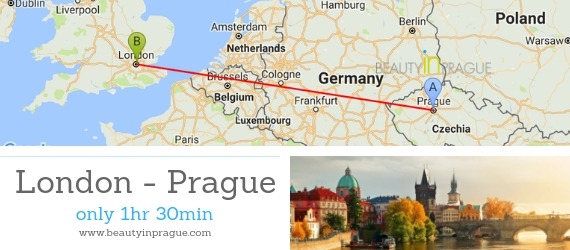 Prague as a medical tourism destination
Did you know Prague is only 1hr 30min from London? 😍✈️
And thanks to low cost airlines the price for a return ticket is starting at £50/€60 😊👍👍👍
After completing our free email consultation by emailing us some pictures of the areas to be treated we will respond with your personal quote within 1-2 working days. We will also provide you in the answer with telephone numbers on our previous patients. However, already now you can check written and video reviews from our previous clients from the UK and Ireland.
Once we agree on the date we will provide you with available accommodation close to the clinic. The flights are booked by yourself, we will send you a list of airlines which fly from the UK and Ireland.
Why to choose Prague for your cosmetic surgery holidays?
Prague – in the Top 5 visited cities in the world
Thanks to the bohemian allure and fairy tale features, Prague was named the fifth best
destination on Trip Advisor.
Privacy
Many of our clients prefer to undergo their operation abroad as they do not wish to be seen
by their relatives during their recovery period.
The Czech republic – a member of the EU
As a member of the EU, we have to follow the same hygienic standards as the UK and Ireland.
The lowest MRSA rate in Europe
MRSA (methicillin resistant staphylococcus) rate in the Czech Republic is 6.2 % which is one of the
lowest in the EU. According to the report by the Antimicrobial Resistance Surveillance System the
UK MRSA has been measured to be 44.5%, one of the highest in Europe.