Beauty in Prague's DR Jitka Vrtiskova M.D. Guatemala Mission 2015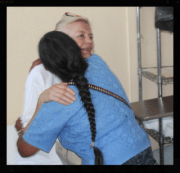 As you will be aware our very own DR Jitka Vrtiskova went on a charity mission to help children in Guatemala who suffer from cleft lip and palate anomalies.
The mission is busy and intense from the moment the surgeons start operating to the moment they leave the hospital. Before starting surgery for the day, the surgeons will go round and check on the patients from the day before.
The patients stay at the hospital the night before so they are ready for surgery the next day. As they wait, the children are given small donated toys to play with and crayons for colouring to keep them busy. The mission rely heavily on toy donations to help keep children entertained and blanket donations to keep the children warm.
There are two volcanoes overlooking Retalhuleu where the hospital is based. During the mission the surgeons and medical staff had to be aware of these volcanoes, from time to time, the volcanoes let off a few "burps" – amazing to experience but also slightly scary, the surgeries were not interrupted as a result of the "burps".
Over $150,000 US dollars was raised for this mission and surgeons were able to evaluate 198 potential patients in their pre-op walk-in clinics, the final review of the work performed on the mission, reveals that 99 healthy candidates were operated on and 122 procedures were performed to improve the lives and futures of these many children of Guatemala. The value of the voluntary medical services performed over the length of the mission equates to $409,000 US dollars.
Aside from the life changing surgery, everyone involved in the mission extended their love and compassion to concerned Mothers, Fathers, Grandparents and in at least one case, a total stranger helping a fellow human being, this is priceless.
"Brandon came in with a man the mission thought was his Grandfather. The full story came out when Brandon came back for surgery. The older gentlemen was named Henry and he was a total stranger that saw Brandon with his Father in the market and had heard about the Rotaplast Mission. Brandon's Father did not speak Spanish rather an Indian dialect, so Henry volunteered to take Brandon's Father and Brandon to Retalhuleu to be examined and act as a translator. Henry came back and picked Brandon and his Father up when Brandon was ready to leave. We also learned that Brandon's Mother had died in childbirth with Brandon's younger sibling who was given up for adoption. Brandon has an older sister as well. As you can see from the photos below, Brandon's life was totally transformed."
We are so proud of DR Jitka Vrtiskova and everyone else who was involved on this mission.
You can find out more about the mission here: http://rotaplas­t.typepad.com/…u-guatemala/
You can donate here: http://rotaplas­t.org/…ntribu­te.php