Plastic Surgeon in Crossville Kicks Off USA BRA Day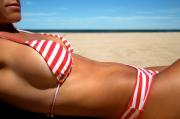 Plastic Surgeon in Crossville Kicks Off USA BRA Day
Breast Reconstruction Awareness (BRA) day was declared open by Dr. Joseph Chun and his colleagues in Crossville on October 18, 2012. The day is designed to reveal to women the options they have, in terms of plastic surgery, to help them after breast cancer.
Having a mastectomy as treatment for breast cancer can leave a woman's breasts in poor condition. Through breast surgery women can regain breast structure, and once more look how they want. BRA day is designed to increase awareness of these options and to encourage women to come forward for reconstructive surgery.
Beauty in Prague is fully sympathetic with the emotions of breast cancer, and offers breast reconstruction surgery at cost-effective prices.
All surgeons within the operating theatres of Beauty in Prague are fully qualified in the most up to date procedures and techniques, and operations are carried out in a high quality clinic. From initial consultation to discharge, you are in the best of hands.