Personal Support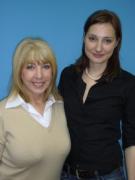 Personal Support with English Speaking Consultant after your cosmetic surgery
During your whole stay in Prague right after your flight arrival to the airport we are at your disposal 24 hours a day and 7 days a week personally and by phone contact.
Personally Accompanied to Your Surgery, Check-ups & Visited Anytime
During your stay in Prague we are 100% committed to be there for you.
We would personally transport you to the cosmetic surgery clinic for the pre-operative examinations and your cosmetic surgery. We would answer all of your questions, we will in detail explain the whole surgery process and we will become your psychological support.
During the post-operative process we would personally accompany you every 2–3 days to the free regular check-ups depending on the recommendations of the plastic surgeon. The plastic surgeon would exchange the bandages on operated areas; he will check on your health condition and we would arrange further visits. After certain period he would free of charge remove the stitches from the operated areas.
The intensity and frequency of the communication depends on your demands and needs of your condition. In case of acute situation the health personnel would visit you at your apartment.
Beauty in Prague – Safe Cosmetic Surgery Abroad