New website – Cosmetic Surgery Abroad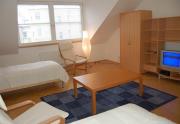 Our new website about cosmetic surgery abroad and Prague plastic surgeons was launched on February 28th 2007. We will provide you with even more and updated information about cosmsetic surgery procedures, costs, consultations and patients video reviews. We concentrated not only on new graphic design but also to make it easier and simpler for you.
Cosmetic surgery procedures are divided in 3 main sections:
In every section you will find a list of the most common cosmetic surgery procedures and on each link detailed information regarding prices, recovery, before and after photos, advice, minimum stay in Prague, implants, cosmetic surgery clinic, results etc.
In the end you can find a form for booking request or if you have spare 10 minutes you can fill in our Medical Questionnaire straight away.
We are trying to be as close to you as possible. That's why we also have a new free phone line: 0800 023 2592, which is free of charge for our clients from UK. This number is placed in the right top corner.
On the same place as our free phone number you will find a full text search. This is very useful in case you can not find the procedure you are looking for. Just type in the word or key phrase and the search will show you all the links related to your question.
We have also listed the most frequently asked questions (FAQ), where you can find general questions with answers which most of our clients had regarding their cosmetic surgery in Prague.
Recently our clients asked us to publish before and after surgery photos of our former clients. Right now we are compilating the pictures and will gradually disclose them at the bottom of every procedure.
We have also updated our link with plastic surgeons and medical staff. Except our Prague plastic surgeons you will find there our General Practitioners, Head Anaesthetist and Head Nurse, so you can meet them before your arrival for your cosmetic surgery in Prague at least this way and find out more about their experience and approach to clients.
Every client who has undergone a cosmetic surgery abroad with Beauty in Prague can share his experience online. All he has to do is to fill in Patients Reviews form. However, it has to be authorised prior to its publishing.
We have also prepared for you another useful links as: actual weather in Prague with 6-day forecast and Exchange rates.
We hope you enjoy our new website about cosmetic surgery abroad and with your choice of cosmetic surgery procedure and our services we will help to make you feel more confident and happy with yourself.
Beauty in Prague – Safe Cosmetic Surgery Abroad