Katie Price Starts Reality Show after Another Breast Enlargement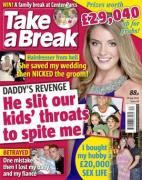 Katie Price Starts Reality Show after Another Breast Enlargement
Reality star and model Katie Price starts a new show on the TV. It is called Signed by Katie, and will start after a new rumour that Katie has done it again. The star seems to be never satisfied with her breast size, and she is returning regular to have even more breast enlargement operations.
Some viewers are worried about Katie Price's openness about breast enlargement, as they think that it encourages young girls to copy her.
No matter what the truth is, many women are looking for safe and effective breast enlargement surgery. Get in touch today to find out more about your options regarding your breast cosmetic surgery at Beauty in Prague.
We currently hold email consultation, too. Simply fill in the Medical Questionnaire on the right side and send us some photos of the areas to be treated.