How to Find the Best Swimsuits for Your Body Shape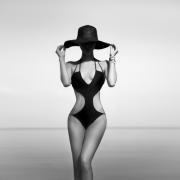 The summer is coming and that means that swimsuit season is upon us. It is a time of anxiety for many women. The extra exposure may leave you feeling insecure, and the wrong swimsuit may end up making you feel even more unattractive and less confident about yourself. As long as you know your body type, you can easily find a swimsuit that flatters your shape. In general, look to maintain a balance between your upper and lower body. Give larger areas plenty of support while drawing the eye to your better features.
Beauty in Prague has put together a list for the three main body shapes, hour glass, pear and apple. We will tell you what you should go for and what you should avoid
Hour Glass
Try a one-piece in a solid colour. Solid colours help to give a sleek look. Your figure may be curvy enough to draw attention on its own, so there is not much need to worry about accentuating certain parts of trying to hide other parts
Consider a swimsuit with a deep plunge. Odds are, you have a curvy bust worth showing off. A deep v neck or similar style will help you show off your upper curves whilst offering support
Avoid swimsuits with boy shorts. These downplay your curves and make you look boxy or unbalanced at the bottom.
Look for swimsuits with ruffles along the neck line and ties on the bottom. Ruffles emphasise your upper curves but heavy ruffles can make you look unbalanced. Keep things in proportion, making sure that you ties or other details on the hip
Tone things down with a small print. If you want to hide your curves rather than flaunt it then look for small prints of tiny polka dots. These prints have an effect that reduces volume.
Pear Shape
Look for tops with extra design elements above the waist. This detailing draws the eyes upward, making your bust look bigger and downplaying the weight of your bottom half
Avoid skimpy tops. While you may not have worry about a top giving you support, smaller tops emphasise the bottom half, making your body look bigger than it is
Try swimsuits with horizontal stripes across the bust of waist, these stripes make your chest look bigger, balancing out your hips
Look for swimsuits with scalloped necklines or V-necks. These deep necklines give you the illusion of cleavage, making your smaller bust look bigger and drawing attention away from your hips.
If you want a swimsuit that has a boy short bottom then stick with black has a slimming affect. It can help mask the thickness of your upper leg. Avoid boy shorts in bright colours or any extra material, such as skirted bottoms. These will all make you appear bigger.
Make your legs look longer with a high cut brief. Bottoms that show off more of your leg help to lengthen it and it is the lengthening that makes your legs appear slimmer.
Lengthen your body with a Tankini. The extra fabric makes the upper portion of your body appear longer. This extra length makes your bottom half less noticeable.
Apple Shape
Look for fabrics that are designed to keep your stomach flat. Thicker materials or swimsuits with built in support give your tummy area the support needed to look slimmer.
Try on a one piece swimsuit with ruching down the sides and at the waist. This pulls in your waits and gives the illusion of it being narrower.
Camouflage your tummy with creative prints. Bold prints and colour blocking can be used to draw attention away from that area.
Slim down your front with side detailing on your swimsuit. Stripes and patterns placed down the side, draw the eye away from the middle. Making you look slimmer.
Avoid extra materials. You may want to hide your tummy with added materials but these extra materials add bulk and make you look bigger.
Understand that you may not fit within a specific body shape perfectly. You may be a pear with a slightly larger stomach, or an hourglass with a narrow waist but an unbalanced top and bottom. Instead of relying solely on general guidelines, try on a variety of styles and determine which look best on your body.