Why Grow Old Gracefully when Cosmetic Surgery can Keep you Young?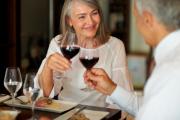 Growing old gracefully, like many film stars, used to be something to look forward to. However, in the modern age, with more and more stars being obliged to change their looks in order to stay successful, the ability to grow old gracefully has had its time. Instead, like some of the hundreds of over-60s every year, you could hold back time with sophisticated cosmetic operation designed to improve your appearance.
A number of women over the age of 65 are now choosing to have breast augmentation, and some, such as the psychologist Ms Vranich, suggest that the reasons for surgery include looking healthy, dating, and being active for much longer than in the past.
Cosmetic surgery in Prague
If you want to keep looking good after the age of retirement, contact Beauty in Prague. We are specialists in cosmetic surgery, and can help people in the UK look great. Call now to arrange an appointment.
For your free email consultation simply fill in Medical Questionnaire and send us some photos of the areas to be treated.
Cosmetic surgery, facelift, breast augmentation, breast reduction, eye lift