Heidi Montag's Cosmetic Surgery Results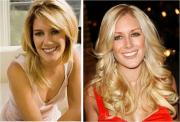 If we look back at the photos taken of Heidi Montag, before she had a series of cosmetic surgery, we can see the difference clearly. Heidi Montag, 23-year-old star of The Hills, underwent ten plastic surgery procedures done in just one day.
Many women are looking for cosmetic surgery treatments to enhance their natural beauty or correct imperfections. Thanks to the advanced methods, cosmetic surgery is now available for everyone, not only celebrities. Our cosmetic surgery advice from Prague plastic surgeons tends to lean towards the more natural beauty look.
A women needs to consult with a plastic surgeon initially, to find out more about how she will look. There are many women worldwide, who would consider cosmetic surgery, and in Prague, in the hands of expert doctors, you can be assured of the best results.
Find out how to get professional cosmetic surgery advice and get the looks you want in Prague. Apply for our free email consultation by filing in the Medical Questionnaire and sending us the photos of the areas to be treated.