Free Prague Guide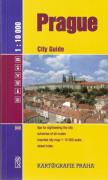 Prague's atmos­phere is both intimate and romantic, and quite impossible to forget once you visit. For your better orientation we will give you Prague City Guide at your arrival.
This Prague City Guide begins with brief history of the City with "Following the Footsteps of the History".
Tips for sightseeing the city include:
The First Old Town Walk
The Second Old Town Walk
The Third Old Town Walk
The First New Town Walk
The Second New Town Walk
The First Lesser Town Walk
The Second Lesser Town Walk
The First Hrad?any Walk
The Second Hrad?any Walk
Vyšehrad Walk
Every Walk is described with a small map and description about the most interesting history events, places and buildings in this area of Prague. The most important of them are pictured on the photographs.
With the Prague City guide you will receive an extra city map 1:10 000 scale with street index. The map of underground is also included.
Beauty in Prague – Safe Cosmetic Surgery Abroad