Special discount for excessive sweating treatment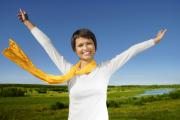 Do not be embarassed of your exessive sweating anymore. Book a simple botox treatment and benefit from 20% discount offered in May.
20% off from Excessive Sweating Treatment – only in May
As much as 3% of the total population suffers from excessive sweating. A recent study by International Hyperhidrosis Society showed that 83% of people who sweat excessively have never sought out a treatment or consulted a doctor because they don't think anything can be done about the problem.
In 2004, the U.S.A. Food and Drug Administration (FDA) approved the use of Botox injections for those who suffer from severe underarm sweating. Botox, more commonly used to smooth out frown lines on the face, helps to keep sweating under control by temporarily blocking the chemical signals from the nerves that stimulate the sweat glands.
The solution, which will get rid off embarrassing sweat stains and worn out blouses or t-shirts is very easy, quick, long lasting and pain free.
Which areas are treated?
axillae
palms
foot soles
face, forehead
When I can see the results?
The results of the treatment appear after two to five days.
How long does the effect last?
The effect is temporary and it lasts 7–10 months or longer.
What is the cost of this treatment?
| Area | Price | – 20% discount | Final Price |
| --- | --- | --- | --- |
| Axillae (under arms) | 562 GBP | – 112 GBP | 450 GBP |
| Palms | 562 GBP | – 112 GBP | 450 GBP |
| Foot soles | 562 GBP | – 112 GBP | 450 GBP |
This offer is valid on all Hyperhidrosis treatments performed between 12 May and 31 May 2008.
Are you interested in undergoing this treatment?
Hyperhidrosis can be also combined with any other cosmetic surgery procedure you are considering. For bookings please fill in our Medical Questionnaire.