Scared to wear that itsy bitsy bikini?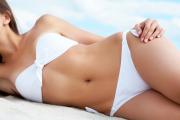 Do you find yourself sucking in your stomach when you look at yourself in the mirror? Or resisting certain foods because you don't want to deal with the dreaded bloat?
Whether your tummy bulge is a result of multiple pregnancies, yo-yo dieting or a lack of exercise, these beauty breakthroughs and expert tips may be just what you need to help keep your midsection slim and trim for good.
Can Aromatherapy Help Banish Belly Bloat?
We're all familiar with the unpleasant feeling of a bloated belly—like a big, heavy balloon in your stomach that you just can't pop. Essential oils can help to relieve this uncomfortable puffiness in a more natural way.
A blend of peppermint and lavender essential oils are an effective way to reduce bloating due to indigestion and IBS.
To reduce bloating due to fluid retention, use birch and cedarwood diluted in anti-inflammatory olive oil or grapeseed oil.
You should you apply it using your belly button as the center of a clock and tap one or two drops of the oil blend on 12, 3, 6 and 9 o' clock. The effect is almost immediate.
Can diet and exercise help?
There are a number toning exercises that can help tighten skin on your belly after a significant weight loss. Extra loose skin is common after losing a large amount of weight and belly fat is always tough to get rid of. The good news is that there are toning exercises that along with eating a healthy diet and performing cardiovascular exercise can help you burn that extra fat and tighten skin on your tummy. Below are some examples of belly toning exercises that will tighten up your mid-section in no time! Try to perform at least 15 – 20 repetitions of each exercise listed below.
Legs Up Straight Arm Crunch
Air Bike
Side Bridge
Lying Leg Raises
Pelvic Thrusts
Target Unwanted Tummy Fat with Liposuction
If you have good skin tone, meaning you don't have stretch marks or wrinkled, droopy skin, and you are bigger than you want to be in your middle but are faced with a few stubborn fatty areas that just won't whittle away, liposuction may be the right choice for you.
For more information, please call 0800 023 2592 or apply for our free email consultation by filling in the Medical Questionnaire and sending us the photos: http://www.be­autyinprague.com/…es­tionnaire/