Dermatologist in our Team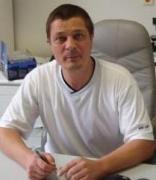 Our team of Prague plastic surgeons, trained nurses and anaesthetists has joined a dermatologist, who will be able to help you with non-invasive cosmetic surgery treatments and anti-aging procedures.
Dr Kravciv is a certified dermatologist and has been working in the dermatology department for over 20 years. The dermatologist is using Candela Gentle YAG Laser.
You can benefit from an effective laser treatment for:
Hair Removal
Pigmentation (Melasma, Age Spots, Lentigines, Cafe-au-lait stains, Freckles)
Facial Veins (Leg Veins, Wrinkle Reduction, Facial Veins)
Thanks to a dynamic cooling which is installed in this device you can undergo the non-invasive cosmetic treatments even during the summer months and without being exposed to risk of secondary effects as a pigmentation. Most of the treatments must be performed at least twice to achieve a desired result; with a 1 month gap.
These non-invasive treatments can be performed in a combination with any of your cosmetic surgery procedure except the areas where the surgical procedure was performed.
The price depends on the size of the treated area.