Cosmetic Surgery in Prague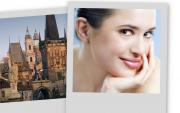 Why cosmetic surgery in Prague?
Cosmetic Surgery in Prague will help you to become more self-confident with perfect body or beautiful face. Do you want wonderful result in an environment which offers absolute discreteness? Whether you are considering liposuction, breast enlargement, facelift or tummy tuck, fulfil your dreams and choose cosmetic surgery in Prague. On the top of it all, the price of your cosmetic surgery will be up to 60% of what you would have paid in UK.
Why undergo your cosmetic surgery in Prague?
The Czech Republic has become a member of EU effectively May 2004. That means that hitherto strict criteria on surgeons and cosmetic surgery clinics have had to adjust even more to standards and law of UK.
Cosmetic surgery in Prague regulated by the state
Cosmetic surgery in Prague and the Czech Republic is strictly regulated by The Czech Medical Chamber. Strict legislation is valid for establishment a cosmetic surgery clinic, education, expertise, experiences and necessity of cosmetic surgeon licence is a must.
Cosmetic surgery in Prague with qualified plastic surgeons
The advantage of cosmetic surgery in Prague is high professionalism of the Prague plastic surgeons.
After obtaining a degree from medical school, a plastic surgeon has to have 3 years of experience with 2 attestations and another 5 years of experience in plastic surgery department.
To perform the services of plastic surgery the surgeon has to have a licence from the Czech Medical Chamber.
The cosmetic and plastic surgery is strictly controlled by the state. The clinics of the plastic and cosmetic surgery are under the regulations of the national hygienic office.
Cosmetic surgery in Prague has the lowest MRSA rate
MRSA (methicillin resistant staphylococcus) rate is only 6.2% in the Czech Republic which is one of the lowest in the EU.
The UK on the other hand has MRSA as high as 44.5% (report from 2002 European Antimicrobial Resistance Surveillance System).
Our cosmetic surgery clinic has 0% of MRSA rate.
Advantages of cosmetic surgery in Prague with Beauty in Prague
Save up to 60% on EU & UK Cosmetic Surgery Costs with our "cosmetic surgery abroad"/
English Speaking professional Prague Cosmetic & Plastic Surgeons
Gallery of Before and After Photos
24/7 Personal Support with English Speaking Consultant
All-included Price for Your Cosmetic Surgery
Hundreds of satisfied UK patients
Comfortable Apartments for Your Recovery
Personally met at the Prague airport
Accompanied to Your Surgery, Check-ups & Visited Anytime
FREE post-operative check-ups and stitches removal
FREE Transfer between Your Apartment and the cosmetic surgery clinic