Cosmetic Surgery Lessons help Keep Girls Interested in Science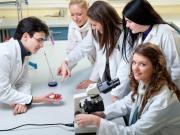 Teachers and colleges regularly complain about the lack of female participation in science. This is one area of education where boys regularly outdo girls, and so the drive to interest women and girls in all aspects of science has sometimes looked into some unusual ways of getting females studying the sciences.
One way that has been suggested in the British Journal of Educational Science is to teach women about cosmetic surgery and how science is used in that, as well as showing them how to order clothes on the internet, and work out how likely they are to have a miscarriage. While not all women are remotely interested in these subjects some educationalists believe that this is the way to go if more women are to become scientists.
Cosmetic surgery in Prague
If you are more interested in the practical application of cosmetic surgery, then you may want to speak to us at Beauty in Prague. We can help you with all types of plastic surgery, so contact us now.
For your free email consultation simply fill in Medical Questionnaire and send us some photos of the areas to be treated.