Cosmetic Surgery Holiday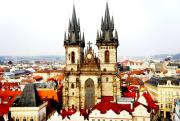 Cosmetic Surgery holidays are an ideal combination for your Cosmetic Surgery and recovery; especially if you are planning to undergo your Cosmetic Surgery abroad.
Book your body reshaping, facial or breast cosmetic surgery now and return back to the UK or Ireland with more confidence.
Why book a Cosmetic Surgery holiday during the summer months?
The summer months for Cosmetic Surgery holidays is ideal as you can take more time off from work and nobody will ask you why. Booking extra days for your holiday, gives you enough time to recover in Prague and possibly explore the beautiful city of Prague.
What is the cost of a Cosmetic Surgery holiday?
The cost of a Cosmetic Surgery holiday varies as it depends on the cosmetic procedure chosen and time spent in Prague. Undergoing your surgery overseas, with one of our reputable Prague Plastic Surgeons is half the cost that you would pay back in the UK or Ireland.
Should I have my Cosmetic surgery holiday in Spain or Prague?
As the trend of Cosmetic Surgery holidays is growing, more and more clients choose Europe as their destination. Cosmetic Surgery in Spain was very popular, however, in the last few years Prague as Cosmetic Surgery holiday destination is heading for the number one position.
Why have a Cosmetic Surgery holiday with Beauty in Prague?
Cosmetic Surgery holidays with Beauty in Prague offer you not only the first class affordable cosmetic surgery abroad, with highly skilled and professional Prague plastic surgeons, but also Prague recovery apartments and outstanding aftercare from our medical staff and patient coordinators.
Cosmetic Surgery holidays – are they real holidays?
Cosmetic Surgery holidays should not be underestimated, especially if your surgery is performed under general anesthetic and the extent of the surgery is major, for example Tummy Tucks with Liposuction, Breast Reductions or Breast Uplifts. You will be advised by your Prague Plastic Surgeon when you will be able to do some sightseeing.
How long will I stay in Prague for my Cosmetic Surgery holiday?
The minimum stay in Prague is advised by our Prague Plastic Surgeons at your free cosmetic surgery consultation.
I am interested in a free consultation for my Cosmetic Surgery holiday, do you have a link?
please fill in the Medical Questionnaire online
send us some photos of the areas to be treated from the front and from the side
Beauty in Prague's aim is to make your cosmetic surgery holidays as safe as possible.