Cosmetic surgery abroad with free accommodation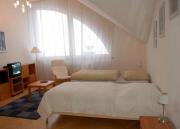 We have prepared another fantastic offer for you which will make your cosmetic surgery abroad even less expensive. We offer you FREE accommodation in our recovery apartments until the end of June.
** The offer has ended – all the appointments have been fully booked
Due to the availability of our apartments Veltrzni and U Studanky we offer stay in these apartments for free during the minimum stay advised by your plastic surgeon in Prague.
Do not hesitate a second – and benefit from our special offer! Book your surgery now to avoid disappointment as the number of appointments is limited. Free accommodation is available only to patients undergoing cosmetic surgery with us.
Available appointments with Free Accommodation:
16.6. – Monday – Prof Nejedly – FULLY BOOKED
23.6. – Monday – Prof Nejedly – FULLY BOOKED
30.6. – Monday – Dr Fialova – FULLY BOOKED
If you have received an answer from our plastic surgeon please contact us immediately on our UK free number 0800 023 2592 or on mobile +420 608 905 384.
If you have not applied for our Free consultation yet, please:
fill in Medical Questionnaire online
send us photos of the areas to be treated; from the front and from the side.
We are looking forward to meeting you in Prague.