Celebrity plastic surgeon admits to doing procedures on his daughters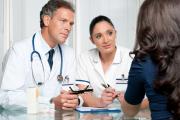 It seems that in today's day and age, nothing is impossible and you can accomplish anything. If you want to look younger, gone are the days where plastic surgery was taboo. It is all the rage nowadays, and it seems that a certain celebrity plastic surgeon Dr Michael Niccole, has even made it clear that he has performed procedures on his daughter, Brittany.
Picking up on the documentary 'Cutting Edge', aired by ABC, the Daily Mail newspaper reported that Dr. Michael Niccole has admitted to giving his daughter breast implants at the age of 18 as well as a rhinoplasty at the age of 21.
He also claims that he did it for his daughter's' welfare and that if she ever requires maintenance, he would not be the one to refuse that. Maintenance or not, both Cr' Niccole's daughters have regular Botox injections and both are said to be happy with their decision. It seems that it is okay for a plastic surgeon/father to give his daughters all the required procedures and who is anyone to argue otherwise.
Cosmetic surgery in Prague
If you can't afford a celebrity doctor but want a plastic surgery operation done at affordable rates, Beauty in Prague has the solution. With a 60% discount for our clients from Europe and UK, we can perform all cosmetic surgery operations in a comfortable and clean setting. Contact us now or use the facility of free email consultation.
For your free email consultation simply fill in Medical Questionnaire and send us some photos of the areas to be treated.
facelift cost, cheap boob job, cost of tummy tuck, breast augmentation doctors