By air for your cosmetic surgery in Prague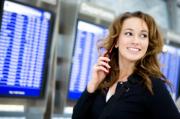 Some people think that it is too complicated to travel for cosmetic surgery in Prague by air. However, it is piece of cake; it is almost like travelling by bus – only quicker and more comfortable.
THE BIGGEST ADVANTAGE – SHORT JOURNEY AT LOW PRICE
The flights from the most UK and Irish airports to Prague take only 90 minutes. The tickets are not expensive; of course the sooner you buy the ticket, the cheaper. Prices start at 48 GBP for return flight. After your arrival we will pick you personally up at the airport and take you to your apartment.
IS IT SAFE TO TRAVEL BACK TO THE UK AFTER MY COSMETIC SURGERY IN PRAGUE?
Before you book your cosmetic surgery our Prague plastic surgeon will advise you on the minimum stay in Prague needed so you can also book your return flight. The minimum stay is defined by your plastic surgeon in our free consultation as the minimum days spent in Prague.
The stay varies from 3–14 days and it is based on the extent of your cosmetic surgery, for example for Liposuction it is 3–4 days, Eyelids Surgery and Facelift 7 days, Breast Enlargement 6–7 days. If you will follow the post-operative instructions of the plastic surgeon it is safe to fly back home after this period.
MAKING YOUR BOOKING EASIER
For easy and quick booking we have prepared for you a list of airlines and their airports in the UK and Ireland with which you can fly to Prague.
Beauty in Prague aim is to make your cosmetic surgery abroad as safe as possible.