Breastfeeding Effect on Breast Appearance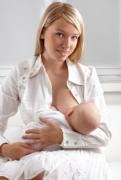 Research results on a study that appears in the Aesthetic Surgery Journal September-October 2008 report that the post-pregnancy drooping or relaxing of the breasts is not caused by breastfeeding.
As more women go to plastic surgeons to get the effects of pregnancy corrected on their bodies, the common complaint about postpartum is that of the breasts sagging, this is called breast ptosis, which up to now has been blamed on breastfeeding. This new study shows though that there are other factors that include higher body mass index (BMI), older age, and smoking are more responsible for the sagging of the breast by some of the women after they have been pregnant.
Is breastfeeding affecting the appearance of the breasts?
It is widely thought that breastfeeding will affect the appearance of the breasts adversely and this has been a major reason spoke of by women who have chosen not to breastfeed. In fact there has been very little objective data to prove or disprove that this is the case.
Study by a Kentucky plastic surgeon
"We hope to shed some light on this topic and correct any misconceptions through this study", these are the thoughts of Brian Rinker, MD, a Lexington, Kentucky plastic surgeon, who is a lead author on this study.
This recent study started for the purpose of identifying factors of risk in the development of this breast ptosis and to find if there is a relationship between breast aesthetics and breastfeeding utilizing data of 93 patients who asked for aesthetic breast surgery from 1998 to 2006.
All of these patients had been pregnant at least once. The severity of breast ptosis was decided through use of preoperative photographs that were part of the patient's medical charts, and rated on a scale from 0 to 3.
Every patient was questioned and the medical charts were carefully looked over to collect data on potential risk factors pertaining to breast ptosis including how many pregnancies, age, body mass index, history and duration of breastfeeding, bra cup size before pregnancy, weight gain amount during pregnancy, and smoking history.
Results:
58% or 54 of the patients examined had breastfed 1 or more children;
39 had no history of breastfeeding
During pregnancy weight gain in both groups varied from 5 – 45kg
39 percent claimed a smoking history
51 patients reported an adverse alteration in the shape of their breasts after pregnancy. Weight gain and BMI during pregnancy were much higher in the group that did not breastfeed.
Significant risk factors pertaining to the breasts sagging
After analyzing all this information the conclusion was found to be that higher BMI, greater age, history of smoking, greater amount of pregnancies, and larger bra size before pregnancy were very significant risk factors pertaining to the breasts sagging. Breastfeeding was not a risk factor even as the duration of it increased.
Find out more about our breast surgery abroad procedures: