Recovery during your stay in Prague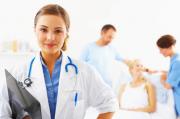 To avoid complications during your recovery from cosmetic surgery abroad in Prague we would like to inform you of some suggestions and recommendations, which will be given to you before your discharge from our clinic.
It is necessary to follow these requirements from our Prague plastic surgeons:
You have to keep on quiet restful regime (do not go out).
During the recovery period drinking alcohol and smoking are not allowed.
You are advised to set up meals according to the advice of your surgeon, especially, consume eupeptic, non-flatulent meals after tummy tuck and consume mash and soft meals after a facelift.
You have to treat the operated area according to suggestions of your plastic surgeon.
You can remove elastic garments only for necessary personal hygiene.
You should drink sufficient amounts of liquid.
You are advised to avoid after the surgery of upper and lower eyelids restrict watching TV and PC to minimum.
The recommended position while you are sleeping after surgery is leaning back/half sitting (with legs raised, especially after the abdominoplasty).
After the upper blepharoplasty surgery cool down upper eyelids.
Following these points will ensure a complete and speedy recovery. They are also essential to achieve the optimum results of your cosmetic surgery with Beauty in Prague.
Beauty in Prague aim is to make your cosmetic surgery abroad as safe as possible.