Bridalplasty – Interested in Trying the Latest Trend?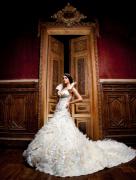 It's natural for women to want to look great on their wedding day, and some of them won't mind going the extreme – just like Linsey Ray, the 26-year-old bride-to-be, who elected to go under the knife to look adorable on her big day.
Speaking on Good Morning America, Lindsey Ray said that her "bridalplasty" cost was equal to her wedding's total budget. The 26-year-old California resident and a mother-of-one, Linsey, was originally a U.S. size 22 (24/26 in the UK), but she used proper exercise and balanced diet to reduce her weight from 240lbs to 152lbs. It was a great achievement, but she was not happy with the resulting excess skin. When her boyfriend asked her to marry him, she made up her mind to go for a breast-lift and tummy-tuck procedure ahead of the wedding. These procedures cost her $20,000 in total, but she said she was happy because it was better than wearing three tight tops to keep your sagging skin in place.
Cosmetic surgery in Prague
Bridalplasty is the latest trend, and we encourage you to first consult with our experienced plastic surgeons at Beauty in Prague before making any decisions. We have all procedures available to make you look like a princess on your wedding day, and the icing on the cake is our highly affordable packages. So, call us now to discover more about our services or hear what our experts suggest through free email consultation.
For your free email consultation simply fill in Medical Questionnaire and send us some photos of the areas to be treated.
Breast uplift surgery cost, tummy tuck cost, Breast enlargement cost, best plastic surgeons