£200 Christmas Breast Implant Voucher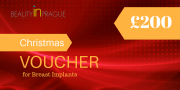 We are very happy to announce that due to our successful co-operation with the German producer of breast implants, Polytech, we have a special Christmas voucher of £200 for you.
For over 25 years, Polytech Health & Aesthetics have specialised in the manufacturing of breast implants. All implants are primarily handmade manufactured in Dieburg, Germany, following the highest quality requirements. After each step of production every single implant is checked by hand for possible errors.
In 2007 Polytech Health & Aesthetics launched the patient programme "Implants of Excellence" which offers patients a lifetime replacement-implant policy for their implants.
The standard price for Breast Augmentation is £2,289. With your Christmas voucher it is only £2,089.
The standard price for Breast Augmentation with Uplift is £2,889. With your Christmas voucher it is only £2,689.
The price includes:
– Full consultation with a plastic surgeon
– Pre-operative Blood & ECG tests
– Full examination by our GP
– Your surgery and general anaesthetic
– All medication
– 1–2 Night stay at our clinic
– All post-operative treatments
– Dressings & surgical wear
– Stitch removal if needed
– Support garment to be worn after surgery
– Transfer between your recovery apartment and the clinic
Make your dream about fuller and perkier breasts come true by contacting us today and using your Christmas voucher. Our standard prices are affordable compared to the prices in the UK and Ireland, where you would pay up to 60% more for this surgery. Now, with our Christmas voucher, you can save even more.
This voucher can be used for Breast Augmentation, Breast Re-Augmentation, Breast Augmentation with Uplift or Breast Re-Augmentation with Uplift. The offer applies to round and tear-drop silicone implants from Polytech.
You need to pay your £300 deposit by 31.1.2017 and your surgery has to be performed by 28.2.2017.
The first step of being able to book your treatment is to apply for our free email consultation:
Please fill in the Medical Questionnaire
2. Email us some pictures of the areas to be treated. Our surgeons need at last one photo from the front and one from each side. It would be ideal if somebody else could take pictures of you, this is so you do not need to lift your arms up, as this will influence the look of your breasts.
What happens next:
3. Our breast surgeons assess your suitability for the treatment.
4. We will email you within 24–48 hours with detailed information about surgery, surgeons, who has assessed your pictures, available appointments and we will include telephone numbers and email addresses to our previous clients from the UK and Ireland who have had surgery with us; they are happy to answer any of your questions.
5. You will contact us with which appointment you would like to book.
6. We will send you your booking form with all the details about your surgery, including prices.
7. We will ask you to pay your deposit of £300 by credit or debit card online and the surgery is booked and confirmed.
8. We will organise your accommodation, pre-operative tests at our clinic and your pick-up from the airport.
9. The rest of the payment is due here in Prague, after your consultation with your surgeon. You can pay the remaining balance in cash or by credit or debit card.
If you have already applied for a free email consultation and you were indicated for surgery, please contact us via email or on our telephone numbers (Freephone from the UK: 0800 023 02592 or outside the UK: +420 608 571 517) to agree on the date you would like to book.
Be quick, the number of appointments for this offer is limited.
Terms and Conditions:
The offer applies for new bookings/deposits only (deposits paid from 18.11.2016)
The offer must be stated in your booking form, otherwise is not valid
The offer must be confirmed prior to your arrival to Prague, otherwise is not valid
The offer cannot be exchanged for cash.
The offer cannot be combined with any other special offers or discounts.
The offer is valid from 18.11.2016 until 28.2.2017
For clients coming from Ireland the offer is €200
You must not have a period on the day of your surgery
You must be 100% healthy to undergo surgery