Man Chooses Plastic Surgery to Look like Superman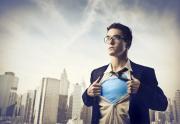 We all have our hobbies, but one man from the Philippines has gone so far in his love for Superman that he has had major cosmetic surgery in order to look more like his hero. Herbert Chavez has changed his appearance from squaring his jaw to adding implants to his thighs.
His desire to be Superman has lead to 17 years of cosmetic surgery, including rhinoplasty, chin alteration, silicone injections to fill out his lips, and other operations designed to make him look more like the superhero. Although he has taken his love of plastic surgery to extremes, the 35-year-old man has certainly changed his appearance radically enough to echo Clark Kent's transfor­mation into Superman.
Cosmetic surgery in Prague
If you want to have some subtle cosmetic surgery to help improve your appearance, then you can speak to Beauty in Prague. Our expert plastic surgeons can help you to get the look that you want, so contact us today.
For your free email consultation simply fill in Medical Questionnaire and send us some photos of the areas to be treated.