Why have Cosmetic Surgery abroad?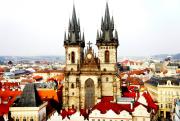 Holidays and Cosmetic Surgery have become very popular as a new experience to those who wish to mix their rest and relaxation with a little nip and tuck. Going by a variety of appealing names – Cosmetic Holidays, Medical Journeys, Surgeon and Safari, and even The Health Escape – cosmetic surgery tourism has captured the imagination of people who are considering cosmetic procedures.
Price
In cosmetic surgery tourism, the price is a major selling point. It's not unusual for entire holidays/surgical packages abroad to cost less than individual procedures in the UK, with advertised savings ranging from 50% to 90% depending on the procedure.
Waiting for surgery is not an issue
Many popular medical tourism surgery destinations actively recruit patients from abroad by offering no wait times and a standard of care that is second to none. We are able to offer you an appointment within 2-3 weeks.
Safe cosmetic surgery abroad in Prague
The Czech republic has one of the lowest MRSA rates in the world (1). Our cosmetic surgery clinic has regular check-ups from local hygienic authorities to measure MRSA so we make sure your cosmetic surgery abroad is as safe as possible.
It's fun and as stress-free as possible!
Here at Beauty in Prague we cover everything that you will need from picking you up from the airport to a comfortable stay in our recovery apartments. You can come with your partner or friend and combine your surgery with the beautiful sights of Prague. Making it an experience you will never forget.
Privacy
A very important factor is that you will have your privacy here in Prague. Many of our clients prefer to undergo their operation abroad as they do not wish to be seen by their relatives during their recovery period. Safe recovery abroad is provided by our team here in Prague.
Cosmetic surgery abroad and Plastic Surgery abroad provided by Beauty in Prague offers a comprehensive and unique service. We can offer you tailor made affordable cosmetic surgery holidays package in Prague – Czech Republic including accommodation focused on your specific needs.
For more information, please call 0800 023 2592 or apply for our free email consultation by filling in the Medical Questionnaire and sending us the photos: http://www.be­autyinprague.com/…es­tionnaire/