Welcome to our new website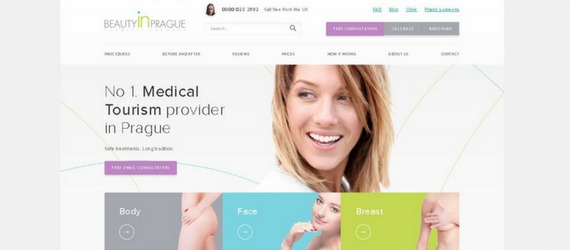 We are happy to announce we launched our new website. The main reason for the change was that we wanted to provide you with even better and more beautiful layout which would be also easier to use.
Well informed patient – our main goal
Deciding about cosmetic surgery abroad is a big decision for every client. We have been focusing on medical tourism and treating clients from the UK and Ireland for over 10 years. We are in an everyday contact with our clients whether it is exchanging emails, discussing their questions over the phone or meeting them personally here in Prague for their consulation, pre-operative tests, surgery and post-operative check-ups. Every contact with you helps us to understand what type of information you need and based on our experience and your needs, request and wishes, we created our new website.
Extensive details abour treatments
Our new website will provide you with even more details about surgery you are considering to undergo. On one page you will find information about surgery, prices, reviews from our previous clients from the UK and Ireland, before and after pictures, frequently asked questions and details about plastic surgeons who are specialising in the treatment. You will also find information about airport transfer, list of airlines which fly to Prague and accommodation for your trip.
Free email consultation
Our free email consulation became even easier to apply for. The medical questionnaire has been updated based on requests from our Head Physician and Head Anaesthesiologist. The questions are more specific, so our medical staff can better understand your medical history and assess whether you are a suitable candidate from the medical point of view. This way we try to rule out any possible contraindication prior to your arrival to Prague.
There is also possibility to attach photos into the Questionnaire so you do not need to email us the photos separately.
Before and After photos
We uploaded lots of new before and after pictures to give you an understanding of possible outcome. You can list the photos based on the part of the body or specific surgery.
Client Reviews
In our section Reviews you will find video and also written reviews and patient stories. We believe this will help you to hear how was the experience of our previous patients who come from the UK and Ireland. You might also find the answers to some of the questions there. As a part of our free email consultation we will email you back some telephone numbers from our previous clients, so you could discuss your questions directly with them over the phone. You can list reviews based on the body part or surgery you are interested in.
Online chat
There is also possibility of writing us your question directly on online chat, so you do not need to send us an email and wait for an answer.
Feedback
Are you our new prospective patient or you already had a surgery with us? We would love to hear from you what do you think about our new website.
Did you found all information you needed?
Was there something missing?
Do you like the layout and you think the website is easy to use?
Do not hesitate to contact us and let us know what you think.