Signal Light Festival Prague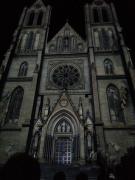 From the 16th-19th October, SIGNAL Light Festival was in Prague.
SIGNAL | Prague Light Festival is the largest showcase of light art and emerging technologies in the Czech Republic. It is also the most-visited cultural event. Its first edition attracted almost 250,000 visitors.
SIGNAL turns the public spaces, squares, streets, and parks of Prague, into a giant and shining gallery. The festival offers technologically advanced light installations, including many interactive ones, as well as large-scale video mapping projections. Some of the works have already been successfully presented at light festivals abroad; however, a majority of the 20 featured projects have been created for their world premieres at SIGNAL.
Prague really is a phenomenal city!