Rise in Post-childbirth Ops Driven by Older Mothers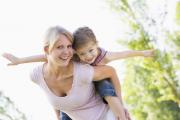 Older mothers are on the increase in all European countries, including those of the British Isles. Famous Mothers include Arlene Phillips, a mother at 47, and Helen Fielding, with a baby at 48. However, even mothers in their late thirties and early forties can experience some post-birth changes that they might find hard to remove.
The Harley Medical Group, which owns a number of cosmetic surgeries, reported that older mothers are often asking for tummy tucks and breast lifts, as well as having stretch marks removed. In fact, older mothers are driving a boom in post-pregnancy cosmetic surgery, with both tummy tucks and breast uplifts increasing by more than a third in the last 5 years.
Cosmetic surgery in Prague
If you want to recover your pre-pregnancy shape today, then Beauty in Prague can offer UK mothers a range of cosmetic surgeries. Just talk to our professional and highly trained plastic surgeons now.
For your free email consultation simply fill in Medical Questionnaire and send us some photos of the areas to be treated.