Post-Anaesthesia Care Units at our clinic have been refurbished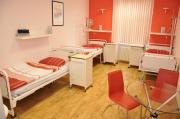 We are very happy to announce that our Post-Anaesthesia Care Units have been refurbished.
These units are dedicated to meet the patient's needs, thereby minimizing post-operative complications after cosmetic surgery. Our aim was also to provide you with even more comfort during your recovery.
More colours were brought to interior to make sure you feel less like in a hospital and more in a homey recovery care.
We hope you will appreciate this improvement and it will speed up your recovery.
Our goal is to continuously improve service standards, so we will make sure to listen to your comments and try to make your stay stress free and as much comfortable as it possibly can be.
Beauty in Prague Team