One of our Prague recovery apartments gets a facelift!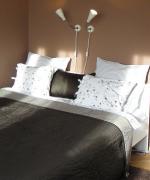 One of our Prague recovery apartments gets a facelift!
Beauty in Prague provides not only safe cosmetic surgery abroad, but also clean, quiet and comfortable apartments to relax and recuperate in after your treatment. In order to provide you with even more comfort one of our recovery apartments has just been refurbished.
We are very pleased with the final result and we hope you will feel this way, too. We chose rich chocolate brown as the wall color. Other colors used in the apartment are shades of beige and coffee. We believe that with carefully chosen colors we created elegant apartment and also warm and inviting.
Kitchen unit has been improved by adding more cupboards for utensil's storage. Microwave has been built in to provide you with more space on the sink unit. Washing machine is now hidden in a kitchen cupboard to create solid appearance. We have also purchased a new wardrobe with sliding doors to provide you with more space for your clothes.
Apartment U Nemocenske Pojistovny has a fantastic central location in the Old Town, only 10 minutes by walk from the Old Town Square. Near by you can find many restaurants, groceries and the biggest shopping mall in Prague called Palladium.
Apartment has also its own private terrace, which we plan to transform with plants in spring, so you can enjoy the first sunrays in a beautiful environment.
Our aim is to provide you with the best possible results of your cosmetic surgery. We also work on improving current standards of our services to ensure your recovery will be smooth and enjoyable as it can possibly be.
We are looking forward to welcoming you in Prague.
Beauty in Prague Team.