Non-Surgical Facelifts Make Carol McGiffen Look Younger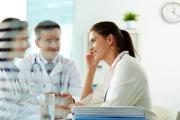 People are often nervous about having cosmetic surgery because they think it will involve a major operation. However, cosmetic surgery is more than just the removal of unwanted skin, and procedures such as the Non-surgical facelift can be very effective in restoring youthful vigour to your skin.
One woman who has clearly benefited from this procedure is Loose Women's Carol McGiffen. Questioned about a recent change in her appearance, including less wrinkles, Carol openly admitted that she has had a facelift which did not involve surgery.
There are a number of different options for those who want to look younger without undergoing serious cosmetic surgery, including anti-aging products, laser treatments, and skin toning.
Cosmetic surgery in Prague
If you want to look at your cosmetic surgery options, then visit Beauty in Prague. Our highly-trained medical surgeons are able to offer a combinations of procedures, so speak to us today about booking cosmetic surgery.
For your free email consultation simply fill in Medical Questionnaire and send us some photos of the areas to be treated.