Dr Zdenek Pros – New plastic surgeon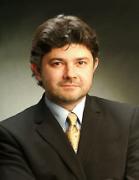 Dr Zdenek Pros MD
We are proud to announce that one of the most respected plastic surgeons in the Czech Republic – Dr Zdenek Pros, M.D. has joined our team. The first appointment available is Friday, September 7, 2007.
Free cosmetic surgery consultation with Dr Zdenek Pros
About Dr Zdenek Pros, MD
Dr Pros graduated from the Medical Faculty of Charles University in Prague. He holds a certificate in the surgery and plastic surgery. Dr Pros works at the Clinic of Plastic Surgery of III. LF UK in Prague for more than 8 years.
As a member of microsurgery team he completed dozens of reattachments of limbs or their parts, as well as reconstruction procedures. Dr Pros was the first plastic surgeon in the Czech Republic to successfully reattach a scalp within the microsurgical program for the whole Czech Republic.
Currently, Dr Pros devotes his time to cosmetic surgery and also works as an assistant in the Sub-Department of Plastic Surgery in the Institute of Post-graduate Education in Health Service. Dr Pros is a member of the Society of Plastic Surgery JEP, and a holder of an expert certificate of the same society. Further, he is a member of the Czech Medical Chamber and the Society for Using Lasers in Medicine. Dr Pros is also the author and co-author of more than 30 international publications and lectures. He has studied in the USA, Australia, Germany and Austria.
Dr Pros was playing a significant part in introducing ultrasound liposuction into practice in the Czech Republic.
Because of his achievements he is among the most popular plastic surgeons sought after by Czech and foreign patients.
We wish Dr Pros every success and many satisfied clients.
Beauty in Prague – Safe Cosmetic Surgery Abroad