Identical Twins Choose to Always Stay the Same with Cosmetic Surgery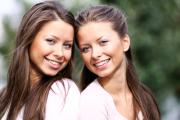 For many identical twins, being dressed and treated the same throughout childhood can lead to a complete separation in adulthood. However, there are some twins who could never bear to look different, and in adulthood this can take them to extremes.
One example is the identical twin sisters Kerry and Jo Burton. When one decided to have cosmetic surgery, the other decided to join her, in order to ensure that they always looked the same. In 2004, they both paid to have breast implants of the same size, and surgeons have tattooed the girl's initials on their bellies so that they can tell them apart. Overall, they have spent more than 60,000 on their cosmetic enhancements.
Cosmetic surgery in Prague
If you want to have any kind of cosmetic surgery, either alone or with your twin, then contact us today. Beauty in Prague have medically trained plastic surgeons who can help you with any kind of operation, so speak to us now to arrange an appointment.
For your free email consultation simply fill in Medical Questionnaire and send us some photos of the areas to be treated.