How to choose the right Surgeon.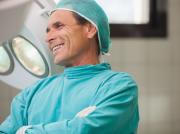 If you've decided to have cosmetic surgery, you'll need to choose a surgeon to carry out the procedure. Find out the questions you need to ask to make sure a Surgeon is suitably qualified and experienced. This will help to ensure the procedure is as safe as possible. At Beauty in Prague, all of our Surgeons are fully qualified all with different areas of expertise and a vast knowledge and experience of the procedures.
When looking for a Cosmetic Surgeon, Professor Simon Kay, Consultant Plastic Surgeon and member of the British Association of Plastic, Reconstructive and Aesthetic Surgeons (BAPRAS), says to gather as much information as you can about the procedure and the surgeons who carry it out. Reputable companies will be happy to discuss everything with you.
Here at Beauty in Prague we offer an online consultation along with a medical questionnaire and ask you to attach photos so our plastic Surgeons can assess the best procedure for you. The Surgeons will get back to you within 24 hours and we provide contact details for people who have already had the surgery to ensure you are able to get as much information as possible.
Questions to ask
When you are considering any Cosmetic Procedure write down any questions you want to ask so that you don't forget them. The list could include questions about:
the Surgeon's qua­lifications and experience
how often they have carried out the procedure you want
the care you can expect after the operation
how much it will cost
Once you have had your general questions answered, ask about the procedure. Your Surgeon should give you details of exactly what's involved in the procedure including:
how long it will take
the anaesthetic you'll need
what pain you can expect
how long the results will last
how long the recovery should be
The Surgeon or clinic should not put pressure on you to have the surgery or to make a fast decision. Here at Beauty in Prague we do not pressure you into surgery, you are free to make your own decision and use all the information on our website plus the information you get from your consultation to help you make the best decision for you.
For more information, please call 0800 023 2592 or apply for our free email consultation by filling in the Medical Questionnaire and sending us the photos: