Gerard Burke testimonial after tummy tuck in Prague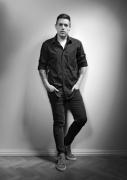 Where can I start! Best place EVER! So I arrived in Prague and was picked up and brought to my hotel by Lucia. She explained what not to do before my surgery. The following morning I was picked up at my hotel and brought to the clinic for pre-op tests.
All the nurses at the clinic took really good care of me. Especially one nurse, Alena who was like my mother for my time in the clinic so I thank her so much..
The admin team also help me and looked after me with information before and after I flew over to Prague. Tamara, Kristyna, Lucia, Jody and sorry if I missed out on anyone but you made me feel comfortable even though I travelled alone!
I got better treatment here than I ever did back home… I would recommend Beauty in Prague to everyone. Thank you so much.
Gerard, Tummy Tuck Surgery, Ireland