Darryn Lyon's Tummy Tuck Creates Six Pack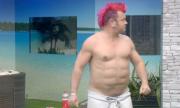 Darryn Lyon's Tummy Tuck Creates Six Pack
Celebrity Big Brother star Darryn Lyon admitted to guardian.co.uk, that he did not work hard for his six pack. The procedure cost him £4,000 – £13.000, and he is happy with the results. He always wanted a "washboard" style stomach, and thanks to the advanced liposuction and tummy tuck procedures, he could avoid working out as well.
Darryn Lyon mentioned the procedure as the man version of a boob job, and he would recommend it to anyone, who wanted to impress women at his age.
Tummy Tuck surgery (Abdominoplasty) is a cosmetic surgery procedure primarily for women who have been pregnant or women and men who lost a significant amount of weight. Plastic surgeon removes excess skin and fat from the mid and lower abdomen.
Liposuction is a cosmetic surgery procedure for women and men that can help sculpt the body by removing unwanted fat from specific areas, including the abdomen, hips, buttocks, thighs, knees, upper arms, chin, cheeks and neck.
Tummy tuck procedures and liposuction are performed in Prague at affordable price.
Photograph: ENTERPRISE NEWS AND PICTURES