Cosmetic Surgery Accommodation packages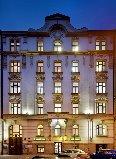 Cosmetic surgery provided by Beauty in Prague offers a comprehensive and unique service. We can offer you a tailor made and affordable cosmetic surgery holiday package in Prague, this includes accommodation focused on your specific needs.
Beauty in Prague works hard to find suitable accommodation for its clients based on budget, location and length of stay. Beauty in Prague can offer clients a 2* accommodation from £30-£45 per night or a 4* accommodation from £100 per night.
2* accommodations will be basic and offer basic amenities.
If you are considering Tummy Tuck or a Face Lift we think you will feel more relaxed in a recovery apartment as this type of cosmetic surgery recovery requires a lot of privacy and you can save money by cooking your own meals. However, a stay in a hotel is advised for minor surgeries like Eyelid Surgery or Liposuction.
You can see more accommodation options here.
Beauty in Prague can only make changes to an accommodation booking during working hours Monday to Friday, so it is important to contact us as soon as the problem occurs. Should you cancel, postpone or shorten your booking for any reason, you will be charged a one night cancellation fee.
Please be aware the standard check-in at all accommodation choices is 15:00 and check-out is at 12:00. If you wish to check-in earlier or later or cancel your booking, you will be charged a standard fee, which is usually one additional night.
For more information, please call 0800 023 2592 free or apply for our free email consultation by filling in the medical questionnaire and sending us your photos.