Cosmetic Surgery Abroad Packages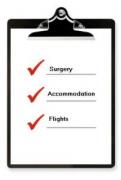 Cosmetic Surgery Abroad Packages: Costs And Extras To Expect
Cosmetic surgery abroad packages are one of the best ways to obtain the needed cosmetic surgical procedure. Individuals from around the world may obtain the highest quality surgical procedures that provide the wanted results from respected and experienced plastic surgeons. Often, individuals may not realize what is included in these types of cosmetic surgery packages. While every program is different, there are some things that may be expected of these packages.
Cosmetic Surgery Holidays
Cosmetic surgery abroad packages often include some items specifically. Individuals who have a consultation or an interview with a provider, should know what is included in the surgical procedure, and if this is the whole package. In addition, they should ask what other items should be included, or may be needed outside of what the package entails.
What To Expect From A Standard Package
The price of cosmetic surgery abroad packages is often defined by what is included. Generally, packages will offer:
Consultation services with a plastic surgeon to know what to expect and what can be obtained
Examination of a general practitioner and pre operative tests to rule out any potential complications
The cosmetic surgical procedure is included
Medications and either general or localized anesthetics
When general anesthesia is used, the package may include up to four nights in a clinic
Post operative aftercare and checkups are included, including stitch removal if required
Support garments, if needed, which are worn after the procedure.
What Additional Costs Are There?
As you plan for your "cosmetic surgery holidays:/, keep in mind the additional costs that you have to pay out of pocket. In most situations, cosmetic surgery abroad packages will not pay for the flight to and from the location. The prices start at 50 GBP (around 55 Eur) for a return flight. The flight takes only 1 hour 30 minutes from most UK and Irish airports.
You may have to pay for meals and for any other costs associated with arriving and staying at the facility.
For those obtaining cosmetic surgery packages like this in Prague, the actual price of the surgery will be dependent on the cosmetic procedure that is used. A cost estimation is possible, but until the actual consultation, a final price may not be possible.
Get your cosmetic surgery abroad package