Breast Reduction and Uplift surgery for less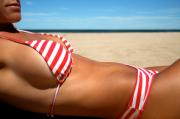 Would you like to ease discomfort caused by large breasts or are you in need of uplifting loosen skin on your breasts? This summer we have prepared for you special lower prices for Breast Reduction and Breast Uplift abroad – in Prague.
Everyone wish to look great in a bathing suit or bikini on the beach or just to wear shirts that don't involve bras. If large breasts or bad elasticity of the skin on your breasts are your problems we are here to help you by offering you breast cosmetic surgery – Breast Reduction or Breast Uplift.
During the summer months (June, July, August) we offer you lower prices for these procedures:
Client Testimonials
What did one our previous clients Christine Maxwell (UK) say in our Client Testimonials about undergoing Breast Reduction with Uplift in Prague?
"I am extremely pleased with every aspect of my cosmetic surgery and aftercare. The plastic surgeon and nursing staff could not have been more professional or helpful. The clinic and accommodation were both excellent and spotlessly clean. I would highly recommend Beauty in Prague for their professionalism and the high standard of plastic surgeons and nursing staff."
Are you a good candidate for Breast Reduction or Breast Uplift?
Please complete 2 easy steps for our FREE consultation:
fill in Medical Questionnaire online
send us photos of the areast to be treated; from the front and from the side.
We will respond with our Prague plastic surgeons advice within 48 hours, whether you are indicated for Breast Reduction or Breast Uplift.
These lower prices for breast surgeries apply for the bookings made until 31 August 2008.