Breast Implants before or after Pregnancy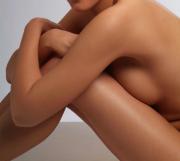 Lots of young women are interested in breast augmentation before pregnancy. Any type of cosmetic surgery, including that undertaken abroad costs money and you are bound to have some questions like: Is it wasting time and money to have my breasts augmented before pregnancy?
Breast Implants before or after Pregnancy – Plastic surgeon opinion
We asked one of our experienced Prague plastic surgeons, Dr Jitka Vrtiskova MD, what is her experience with breast implants before pregnancy.
"According to current research evidence, silicon implants do not prevent babies from breast feeding. If the patient is indicated for breast augmentation before pregnancy, it is not a problem to perform the treatment and lactation will not be affected. However, in some cases it can happen that after lactation the breasts will lose their shape and further cosmetic surgery may be required.", Dr Vrtiskova says.
Before consultation followed by the cosmetic surgery our Prague plastic surgeons, who are performing the breast surgeries, demand extensive pre-operative tests which includes a compulsory mammogram.
Beauty in Prague aim is to make your Breast Augmentation surgery abroad as safe as possible.