£50 voucher for Lens Replacement abroad and Cataract surgery in Prague
Restore your vision to 20/20 and become glasses independent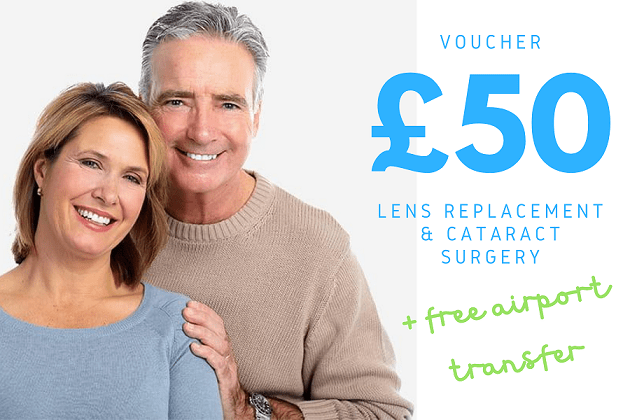 We have prepared for you, your friends and family a special £50 voucher which can be used towards Lens Replacement or Cataract surgery with us in Prague including free airport transfer offered for this treatment.
The offer applies for new bookings made from 22.8.2020 until 30.9.2020. Treatment to be performed by 31.12.2020.
Lens Replacement abroad

and/or Cataract surgery in Prague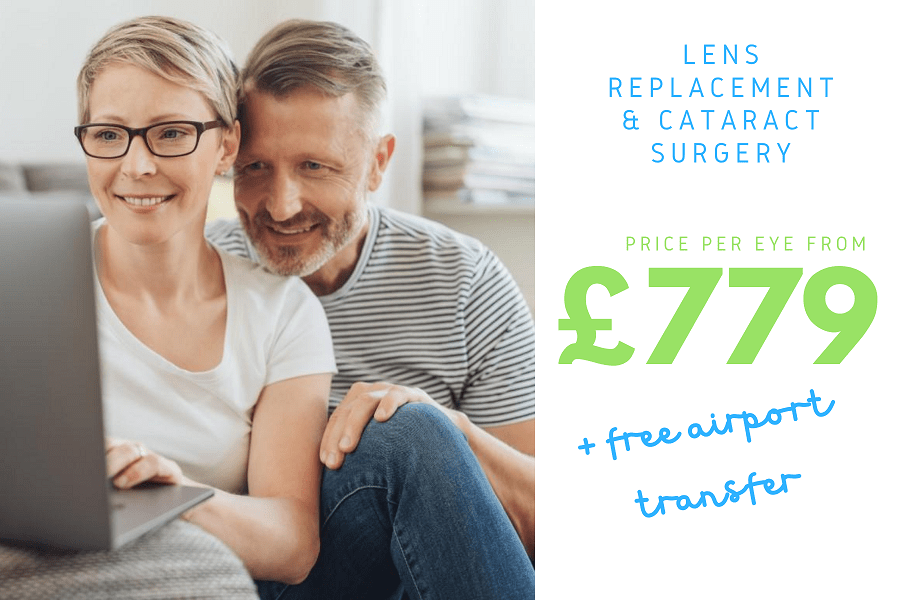 After confirming your Medical questionnaire is fine and there is no contraindication you can book the treatment:
You arrive to Prague airport on Sunday (the flights take around 1hr 30min from the UK and Ireland and the cost is starting at the price of 40 GBP/50 Eur for a return flight).
A driver will pick you up from the airport and take you to the booked accommodation.
Airport transfer and internal transfers in Prague are for FREE.
The examination is on Monday, treatment of one eye on Tuesday, the second on Wednesday and check-up on Thursday. You can fly back home after that. Stay in Prague 4-5 days.
Covid-19 test for this treatment is not needed, however, we can arrange it for you if you wish to have it. There are no restrictions for clients arriving from the UK to Prague.
More details about Lens Replacement and Cataract surgery
Am I the right candidate for Lens Replacement or Cataract surgery?
Refractive Lens Exchange is an excellent procedure for people who are:
Any patient who is over age 45-50 who is nearsighted, farsighted, or has astigmatism
Want to reduce or eliminate their dependence on glasses or contact lenses
Have early clouding of the lens (dysfunctional lens syndrome), which is uniform after age 50
Anyone who is nearsighted, farsighted or has astigmatism who has early cataracts (clouding of the lens)
Want to treat presbyopia with a multifocal implant
Lens Replacement or Cataract surgery information
Lens replacement or/and Cataract surgery involves using ultrasound to remove the natural lens of the eye and replacing it with an intraocular lens (IOL) to minimize the use of glasses and contacts. Treatment usually takes about 15 minutes per eye and is performed on an outpatient basis. Each eye can be done separately one day apart or both on the same day. Clients are able to see after the surgery.
Video Review Lens Replacement surgery – Paul from the UK
"My vision is just unbelievably different. I cannot believe how clear everything is. Yes, it is perfect. Anyone who needs it, can get it done, because it is a life-changer. It has changed my life, definitely. I would recommended it.",
Paul from the UK (two days after Lens Replacement surgery)
Our clinical team has performed over 60,000 surgeries
Price for Lens and/or Cataract surgery for both eyes?
Our pricing is transparent, inclusive and upfront with no hidden extras.
| | | |
| --- | --- | --- |
| Treatment | Price in EUR | Price in GBP* |
| EXAMINATION – non indicated surgery (discounted from the price of the treatment) | € 150 | £135 |
| LRI (Limbal Relaxing Incisions to correct minor astigmatism) /one eye | € 115 | £104 |
| ZEPTO / both eyes (assisted robotic surgery) | € 500 | £450 |
| MONOFOCAL LENSES IN BOTH EYES | € 1,730 | £1,557 |
| MONOFOCAL TORIC LENS IN BOTH EYES | € 2,200 | £1,980 |
| TRIFOCAL LENSES IN BOTH EYES | € 3,100 | £2,790 |
| TRIFOCAL TORIC LENS IN ONE EYE AND TRIFOCAL LENS IN SECOND EYE | € 3,500 | £3,150 |
| TRIFOCAL TORIC LENSES IN BOTH EYES | € 3,700 | £3,330 |
Difference between Monofocal and Multifocal/Trifocal lenses