Picture Perfect: How a Mother's Obsession led her daughter to tears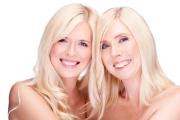 Television shows have the tendency to show the truth of most real-time situations and with more reality TV airing now than ever, one such show, the six-part Discovery Fit and Health series, has televised the story of a mother and daughter both of whom have something to say about cosmetic surgery.
The British newspaper, the Daily Mail, reported the story of Susan and her 13-year-old daughter Analise. Susan had undergone a number of cosmetic surgery procedures, while her daughter was afraid of her mother taking such steps. The daughter believed that if her mother looked different, she would act different too.
The mother is apparently obsessed, and has had countless procedures done simply to make herself look and feel "perfect" for her daughter. The daughter has claimed that she is changing her outer image, but this is having a negative effect on her inner image and personality.
The mother however, feels different and claims that the daughter should "be more supportive." But the real solution to this particular problem is to avoid using cosmetic surgery for a complete makeover.
Cosmetic surgery in Prague
At Beauty in Prague, we have different packages for our esteemed clients from UK and Europe that help them make small changes at a time. We can actually offer you a holiday package, so you can come each year and undergo a small plastic surgery operation. Call us now for more details.
For your free email consultation simply fill in Medical Questionnaire and send us some photos of the areas to be treated.
Cosmetic surgery, rhinoplasty cost, liposuction cost, breast augmentation prices