New location of Eye clinic for Lens Replacement and Cataract surgery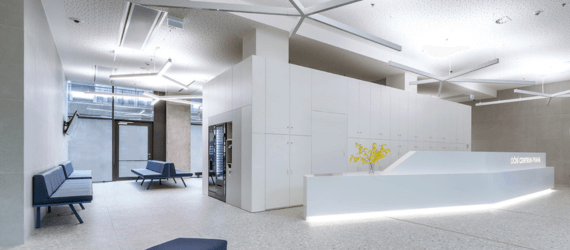 We are very pleased to announce that our cooperating Eye clinic has moved to a newly built premises. This is very exciting news and will bring significant benefits for our clients.
The Eye clinic is now located on the ground floor of the "Edinburgh" building, where
it will use almost 2000 m2
. In the new premises, pleasant spacious waiting rooms,
modernly equipped examination rooms,
a total of
12 specialist outpatient departments
and
four hi-tech operating theaters
will be available for patients. Newly, patients will also be able to use
pharmacy
and optician services.
The new, much larger premises will enable a large increase in the capacity of the Eye clinic and the expansion of the availability of health care for patients. Thanks to this, appointment times for patients will be reduced to a minimum and at the same time it will be possible to provide eye care to more patients.
Patients receive complete eye care in one place. From diagnostics, through Laser Eye surgery, biological treatment to eye microsurgery incl.
Lens Replacement surgery
and Cataract surgery.
The best eye care for our clients from the UK, Ireland and the USA
✅ greater comfort in which our patients can feel relaxed and well cared for
✅
beautiful modern and calm environment
✅
compliance with the best clinical practice
✅
facilities with the most advanced surgical and technical equipment
✅ conveniently located in Prague with great transport accessibility
✅ the complexity of the offered eye care
✅ everything under one roof
Are you insterested to become glasses independent? Contact us for your free advice via email, our UK freenumber 0800 023 2592 or via Whatsapp: +420 608 571 517.
Interested? Find out more