Medical Tourism in Prague – Article in The Times UK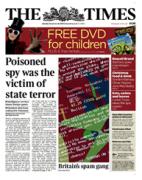 Medical tourism in Prague is on the rise – the pros and cons described in the article of The Times with a patient review from our client from the UK.
"I would definitely recommend it," that is how our client Mr Anthony Elflain assessed his experience with Beauty in Prague for The Times in the article "Medical tourism: the pros and cons".
Are you also considering undergoing cosmetic surgery abroad or even in Prague? Reading the facts in the article might reassure you of our high quality services.
Our client's experience was used as a case study for The Times' article covering increasing number of Britons undergoing medical treatments overseas.
Medical tourism: the pros and cons
by Mark Bridge, The Times, October 13, 2007
Anthony Elflain, of Bedford, was shocked when he saw the photographs of his and Arthur Sullivan's civil partnership ceremony in December 2005. "I looked knackered," he says The 49-year-old human resources consultant decided that a facelift, necklift and eyelid surgery would help, and set to comparing prices in the UK and abroad. He found that prices at home ranged from £9,000 to £13,400.
Unimpressed, he did some research online and decided that the Czech Republic offered a safe, cheap, alternative. He compared clinics at Treatmentabroad.net and checked credentials with the Czech Medical Chamber.
In August he travelled to Prague, paying £4,400 for flights, accommodation and surgery at the Beauty in Prague cosmetic surgery clinic. He bought standard travel cover with the understanding that his insurer would not pay out if the operation went wrong.
The surgery was a success and Mr Elflain was able to enjoy the rest of his 23-day stay in Prague. He says that his GP was happy with the results and there have been no complications. "I would definitely recommend it," he says.
Read more Patient Reviews abour Medical Tourism in Prague:
Beauty in Prague – Safe Cosmetic Surgery Abroad