Is liposuction for me?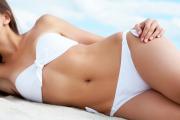 Liposuction is a very popular procedure here at Beauty in Prague but is it for you? Read our points below so you can be more informed about the procedure
What exactly is liposuction?
Liposuction is a surgical procedure to remove excess fat. The doctor makes a small incision in the skin, then inserts a sharp-edged tube that cuts the fat and vacuums it out of the body. Fluid containing anesthetic and blood-clotting medicines is injected under the skin as part of most procedures. This decreases bleeding, reduces pain, and makes the fat tissue easier for the surgeon to work with.
Who is the ideal candidate?
Liposuction is not a good weight reduction technique and will not make an obese person slender. For general weight loss, diet and exercise is still the best solution. Liposuction is most appropriate for someone who is of normal or nearly normal weight with areas of disproportionate fat accumulation. Typically Liposuction is performed on women who have excessive fat in their abdomen, hips or thighs and men with too much fat in the breasts.
Will my fat come back?
Once fat cells are removed, they will not regenerate. However, fat cells that remain can increase in size. After liposuction, new weight gain should be more evenly distributed throughout the body and no longer concentrated in the area where the fat was removed. People with the best results control their weight with diet and exercise following surgery.
What is recovery like after surgery?
Beauty in Prague recommend wearing a special elastic undergarment for support for three weeks. This is included in your surgery price. Results of the surgery may not be fully apparent for a few months, when the added fluid is absorbed and the swelling resolves.
For more information about Breast Surgery or any other procedure, please call 0800 023 2592 or apply for our free email consultation by filling in the Medical Questionnaire and sending us the photos: http://www.be­autyinprague.com/…es­tionnaire/