Gynecomastia Abroad – Male Breast Reduction in Prague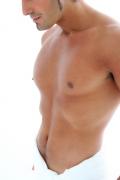 Gynecomastia Surgery Abroad – Male Breast Reduction in Prague
With upcoming summer time we all want to make the most from enjoying our holiday, many of us at a sea or on the beach. For many men suffering from gynecomastia it is a big embarrassment as they would not take off their shirt in public. These men are often very careful when choosing a T-shirt which would not show their problem.
about gynecomastia – gynecomastia causes, gynecomastia treatments
Gynecomastia affects 30% of men. Enlarged male breasts can be caused by obesity or use of drugs such as anabolic steroids, alcohol or marijuana. In this case they are advised to lose some weight or stop ingesting these substances and gynecomastia will resolve itself without a need for cosmetic surgery.
However, it is often caused by a simple genetic reason. Persistent gynecomastia despite regular exercise and a healthy diet can be treated very successfully by a cosmetic surgery procedure called male breast reduction.
gynecomastia surgery:
Gynecomastia Liposuction – Medium Gynecomastia is performed along with liposuction when plastic surgeon removes fatty deposits.
Large Gynecomastia – if male breasts are enlarged with not only fat but also extra glandular tissue, the surgeon must remove the fat and excise the glandular tissue.
surgery for gynecomastia
Male breast reduction procedure is performed under general anaesthesia and takes 60–90 minutes. An overnight stay at the clinic is required. The minimum stay in Prague is 4 days (1 at the clinic + 3 in a recovery apartment). Our Prague plastic surgeons use dissolving stitches which do not need to be removed. Men may need to wear a compression garment for several weeks following the surgery.
Robert, age 43, UK, Gynecomastia Liposuction:
"I was apprehensive and scared that the treatment for gynecomastia would not work or that it would look worse than it was before. I chose to have my cosmetic surgery abroad because I have no faith in the British health service. Gynecomastia treatment with Beauty in Prague was painless and I had discomfort for one night only. After this I could walk around without any pain. I would recommend this type of cosmetic surgery to everyone who suffers from enlarged male breasts. I had tried all sorts of diets and gym membership. I could see that gynecomastia cosmetic surgery has improved my condition within a few days. I had a relaxing week in Prague, with excellent cosmetic surgery treatment and post-operative aftercare."
Pricelist for Gynecomastia
Beauty in Prague – Safe Cosmetic surgery abroad